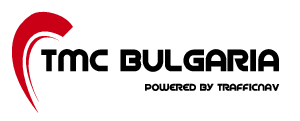 This is the official web page for TMC (Traffic Message Channel) service in Bulgaria.

Traffic Message Channel (TMC) is a technology for delivering traffic and travel information to drivers. It is typically digitally coded using the FM-RDS system on conventional FM radio broadcasts. It can also be transmitted on DAB or satellite radio. It allows silent delivery of dynamic information suitable for reproduction or display in the language chosen by the user and without interrupting normal audio broadcast services.
The TMC Service in Bulgaria is broght by the cooperation of several companies. For more information visit the Partners section of our web site.
News
21.10.2010
First tests for reception of traffic information in Garmin Bulgaria.
More...