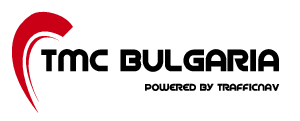 Delivering a TMC service means putting all of the elements of the chain into place. This task includes creating a national database of TMC locations, ensuring that TMC receivers are available in the marketplace, and building the links to sources of real-time traffic information. Delivery also requires setting up a service centre to validate, integrate and encode the traffic data, furnishing the data to a broadcaster, and finally, transmitting the TMC messages.
In order to achieve this complex task. The following companies participate in a complex partnership:
News
21.10.2010
First tests for reception of traffic information in Garmin Bulgaria.
More...